Tolt Farm is named after the fourth gait of the naturally five gaited Icelandic Horse.  Tolt is the Icelandic word for running walk.  It is extremely comfortable and executed slowly or at speeds of 15-20 miles per hour.
We have been horse owners and lovers for the past 40+ years, going all the way back to that first pony at age 7 growing up in England. 
At 2 years old, my horse gene started with pony rides.  My Mum took me for riding lessons every week when I was five and I got my first pony at seven.  I competed in gymkhanas and hunter paces, jumping and fox hunting.   I have taught beginners and trail riding in England, the Bahamas, France and America.  I bred and trained my own colt for jumping and pony club. 
We have owned and ridden a broad range of horse breeds and types including Welsh Cob, Thoroughbreds, Warmbloods, Arabs,  and now have a passion for the Icelandic Horse.
| | |
| --- | --- |
| | Click Here to read an article about Anne and her Icelandics published in the 2010 issue 2 of "The Icelandic Horse," Quarterly Magazine. |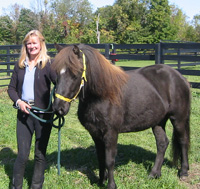 By purchasing Tolt Farm in 2007, we have realized our dream of owning and running a first class facility. Our many years of boarding horses out at various farms gives us a unique perspective  into what is important when boarding a horse.  
We offer the very best in horse boarding in Central New Jersey. Running a small private facility allows us to give each horse personalized attention.  All the horses here are treated as our own.
Tolt Farm is located in Whitehouse Station, a section of Readington Township, within Hunterdon County which is in central New Jersey (NJ). Tolt Farm is available to boarders every day of the year, and we will welcome you to visit your horse at any sociable time.  We offer a unique value proposition with hands-on, personalized  care and on-site supervision.    Also, your Vet, Farrier and trainer are welcome at any time, with only a courtesy call requested.
Call Anne today at 908-968-0292 for an appointment to visit, chat and have a "proper cuppa tea."